PYGANIC SPECIALTY | OMRI
Rapidly knocks down and kills pests in the green house and nursery. Kills a broad spectrum of insects from aphids to white flies and can be used on ornamental plants, vegetables, fruits, and nut trees. Made from botanically-derived active ingredients – Pyrethrins, extracted from chrysanthemums – and is very effective at killing pests.
1 QT JUG $149.00
1 GAL JUG $550.00
AZERA PRO | OMRI
Designed for professional use against hundreds of insects pests in commercial greenhouses, nurseries and landscapes. It delivers a one-two punch to quickly knock down and kill those hardest-to-kill, hard bodied insects as well as most pervasive soft-bodied pests by utilizing multiple modes of action, including contact activity, ingestions, and insect growth regulatory activity.
1 GAL JUG $381.00
EVERGREEN PRO 60–6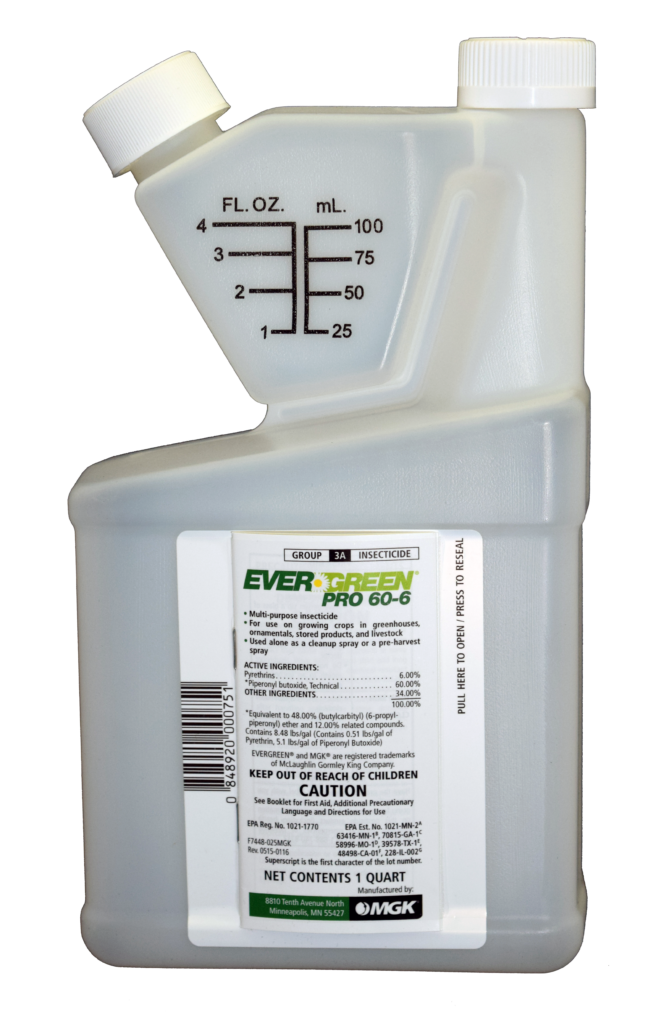 A Botanically derived pyrethrum insecticide that offers immediate insect control for greenhouse and nursery production ad well as landscape maintenance. This broad spectrum contact insecticide delivers rapid knockdown and kill of a wide range of insects by flushing them from hiding. The synergistic PBO has been added to increase its overall effectiveness. Can be used in pre and post harvest.
1 QT JUG $103.00
1 GAL JUG $414.00
EVERGREEN PYRETHRUM CONCENTRATE | OMRI
A botanically derived pyrethrum insecticide. EverGreen Pyrethrum Concentrate is a broad-spectrum contact insecticide that delivers rapid knockdown and elimination of a wide range of insects.
16 OZ JUG $81.00
1 GAL JUG $569.00
MYCOTROL WPO | WSDA
Mycotrol WPO is an organic biological insecticide (Mycoinsecticide – Wettable Powder) for the control of adult and immature stages of aphids, thrips, whiteflies and more. Active Ingredient: Beauveria bassiana strain GHA.
1 LB BAG $112.00
MOLT-X | OMRI
Molt-X is an organic bioinsecticide (Botanical Insecticide/ Nematicide – Emulsifiable Concentrate) containing Azadirachtin, the most potent of the insect active compounds from the neem tree. Molt-X is an ideal material for an Integrated Pest Management (IPM) program. Active Ingredient: Azadirachtin.
1 QT JUG $187.00
1 GAL JUG $590.00
SUFFOIL-X | OMRI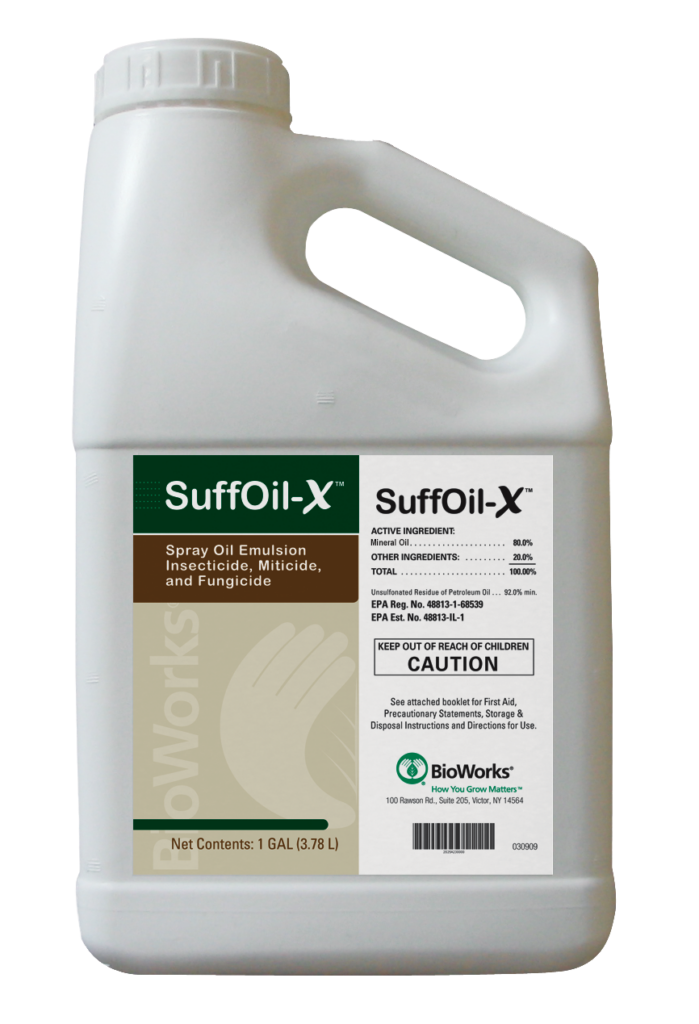 SuffOil-X is an Insecticide, Miticide and Fungicide that suffo- cates pests. It is a unique concentrate of pre-emulsified, highly refined, high paraffinic, low aromatic oil. Approved for organic production, it is the ideal choice for effective insect, mite, and disease control in a broad range of greenhouse, nursery, and vegetable crops. Active Ingredient: Mineral Oil.
2.5 GAL JUG $70.00
30 GAL DRUM $625.00
GRANDEVO CG | OMRI
Grandevo CG uses the bacterium Chromobacterium subtsugae strain PRAA4-1T to provide long-lasting, broad-spectrum control of sucking and chewing insects. Grandevo's mode of action is multi-faceted; it is toxic to insects and mites when ingested, reduces reproduction rates, and repels pests after application. Simply mix with water and apply as a foliar spray to affected crops. Grandevo can be used on a wide range of edible crops in field and greenhouse applications for the control of a long list of labeled pests.
1 LB JUG $31.00
4 LB JUG $111.00
(ASK ABOUT LARGER SIZES)
VENERATE CG | OMRI
Venerate CG uses killed cells of the Burkholderia spp. strain A396 and spent fermentation media to control insects in fields and greenhouses. It works within several modes of action: It's toxic when ingested, degrades insect exoskeletons, and interferes with the molting process. Any one of those can cause mortality in target pests; but Venerate combines them for maximum control. These modes of action also reduce risk of target insects developing resistance making it effective as part of Insect Resistance Management programs.
1 QT JUG $43.00
1 GAL JUG $112.00
(ASK ABOUT LARGER SIZES)
DiPEL | OMRI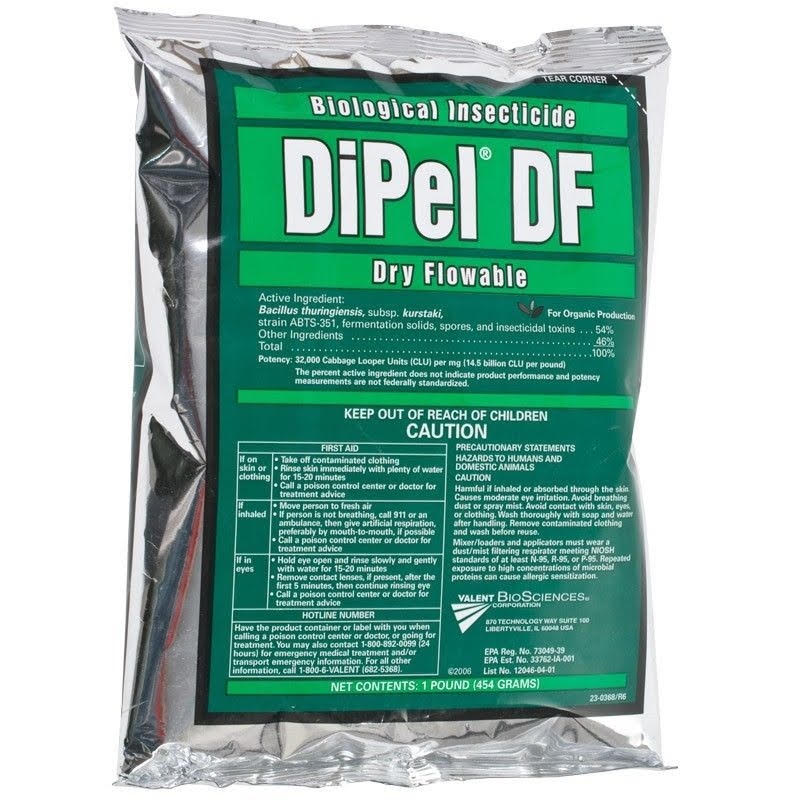 Dust-free, dry, and flowable–kills caterpillars and borers us- ing Bacillus thuringiensis v. kurstaki or Btk. Can control most caterpillar on fruits, citrus, tropical fruits, vegetables, grains, bulbs, flowers, herbs, turf, ornamental trees and shrubs. After ingesting a lethal dose, larvae stop feeding within the hour and die within a few hours–3 days. Best used when the larvae are actively feeding, before the plants are heavily damaged.
21 LB BAG $19.00
5 LB BAG $88.00